Instructor - Senpai Sian Bennett-Motuliki
Nidan Grade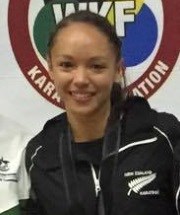 I was 7 years old when I started Karate with my Mother, and my younger brother Zak joined us when he was older. We have been training together ever since and further blessed as a family when we met Sensei Chris Bennett who is my step-father, mentor and coach.
I have previously trained with a few styles and other karate clubs but Jyoshinmon is my home when it comes to martial arts. We are a very supportive family and share a passion for self-improvement and team development.
I share my love of Karate by helping teach traditional and sport Karate to others at our New Lynn Honbu Dojo and run Karate specific fitness classes through Dojo Fitness and at our NZ National Squad Training Camps as a Fitness Instructor.
My dream is to represent New Zealand at the Tokyo Olympic Games in 2020, and I am very fortunate to have the Jyoshinmon family and Karate New Zealand supporting me on this incredible endeavour.