Instructor - Sensei Chante Betham
Sandan Grade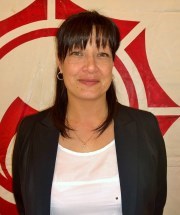 My father, Monty Betham Senior was a Professional boxer that did well on the world stage with amazing accomplishments having won the commonwealth middleweight title and a no 2 world ranking. Knowing how a disciplined sport could help achieve 'a healthy body and a healthy mind' which was a very important concept in my household growing up, I was enrolled into karate.
So began my journey when I was 8 years old doing Shotokan karate under Sensei Nigel Hay. I gained Shodan black while training under Sensei Nigel Hay at the age of 13 years old. After 11 years doing Shotokan karate I changed styles and trained under Sensei Raro Tevita at Ryobi-Kai. After dedicating many years to training and competing, I took a break while studying at University.
When I started back at karate I joined Jyoshinmon karate training under Shihan Dave and Sensei Beaty and have been with Jyoshinmon karate now for over a decade. I realised I had an opportunity to share what I had experienced and learnt doing Karate so I opened the Onehunga Dojo in 2009. My focus is now on teaching and coaching, helping my students to grow.